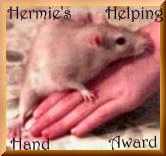 ---
5 Ways To Help Happy Endings/EARPS!!!
BECOME A FOSTER
We can only take in animals we have room for. We are a no-kill rescue which means when we are full, animals will be turned away. More foster homes means more animals can be rescued...it's as simple as that!
DONATE MONEY, GIFT CARDS OR ITEMS
Caring for so many little lives is far from cheap. Money helps buy supplies and pay for medical care. Gift cards from stores such as Kroger, Pet Supplies Plus and Walmart or items from our wish list are also greatly appreciated!
HAVE US PET SIT
Going on vacation? Ask us about on-premises pet sitting for small animals! Locations in Columbia City, IN and Indianapolis, IN.
SHOP CAFEPRESS
Visit the EARPS Cafepress site for cool rat and other critter gear!
VOLUNTEER
Do you have some spare time? We are looking for people who can help us clean cages, transport or help with fundraising, among other things. If you have a special talent, don't mind driving, or just like to scrub dirty cages, let us know!
---
An adoption fee of $20 per rat includes a complete physical exam by a licensed exotic veterinarian and spay/neuter (unless listed as special needs). It is required that rats be adopted in pairs or more unless you already have a rat at home. Rats are extremely social animals and are happiest when housed with other rats. For more information on why rats should not be housed alone read this. Need to research rats before adopting or just want to know more? Click here to order informative rat care books or search through our rat information links below.

Our mouse adoption fee is $5 per mouse. Females must be adopted in same-sex pairs unless you have a female mouse at home. Males must be adopted in bonded same-sex pairs but can sometimes be adopted as singles if they do not get along with other males.

Please visit our Petfinder page for an up-to-date list of adoptables!

Other Animals In Need Of Homes
If you are interested in adopting a small exotic not listed above please check out EARPS!
For all other animals visit your local humane shelter or check out Petfinder.com!
Please don't breed or buy while homeless animals die! Support your local shelter and have your pet spayed or neutered!!!


If you are interested in providing a loving home to any of our fosters email hleughmyer@hotmail.com or call 260-327-3434! We are also always in need of people willing to provide foster homes!!! Contact me if you can help!!!

Click here to see our Happy Tails!
---
Thanks!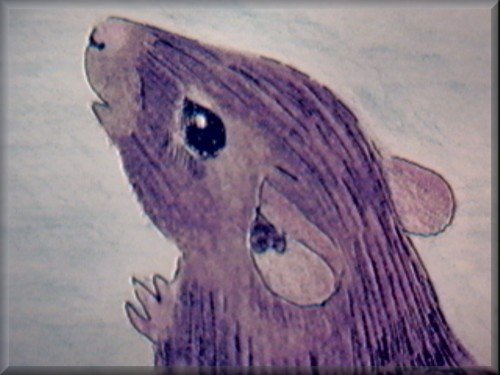 artwork by Stephanie Hanson

The rats and I would like to extend our deepest gratitude to everyone who cares enough to adopt, donate and foster!

A special thanks to my foster/sanctuary moms Kelly, Carly, and Sarah!
---
If you are a private individual needing to surrender your rat or mouse to Happy Endings/EARPS a cage and donation of $10 per animal is required. Group rates are sometimes offered for large surrenders. Loving homes are not always easy to come by so you must understand that they could be in our care for quite some time. Donations help buy food, bedding and pay for veterinary care and/or medicine as needed. Caring for so many little lives is not cheap!
Note: When Happy Endings/EARPS is full you will be asked to fill out a surrender waiting list form. Since we are a no-kill rescue we can only take in animals as foster space becomes available.

---
Heather's Ratties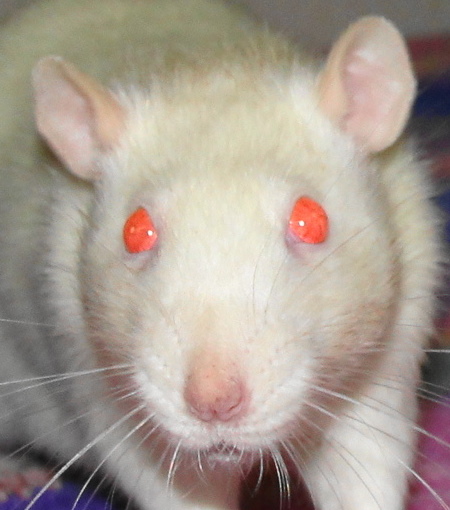 Annie is a social little girl who will be staying at our sanctuary permently due to age, and to keep her brother Sven company. Favorite pastimes include socializing, cuddling with her sister and brother, and party planning. I am being sponsored in loving memory of Sarah O'Hearn.
Dimitri is a big, sweet and squishy boy who will be staying at our sanctuary permanently due to age. He is very happy to have found a forever home here. Favorite pastimes include eating, being cuddled, giving kisses, and fine art.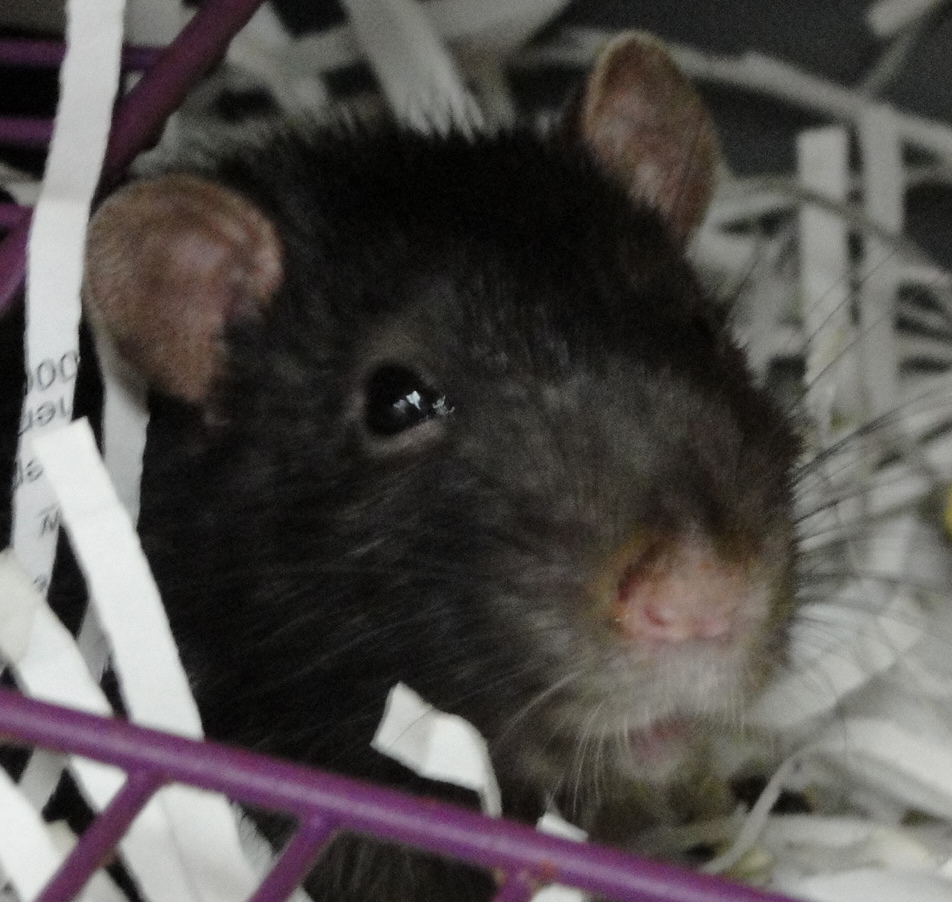 Kirk is a very handsome and curious boy who will be staying at our sanctuary permanently due to temperament. Favorite pastimes include cuddling with his brothers, eating yummy food, and running all night wheel marathons. My sponsor is Jillian Storm!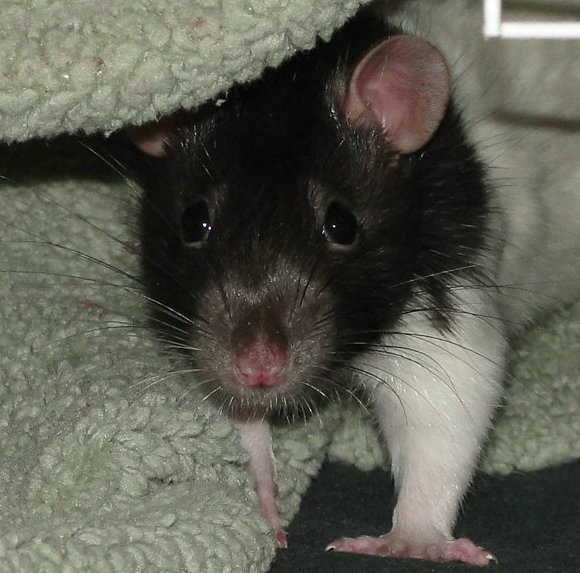 Oobie is a sweet little boy who was a victim of abuse and will be staying at our sanctuary permanently to keep his brother Dimitri company! Favorite pastimes include hoarding food, snuggling with his brother, and watching Cartoon Network.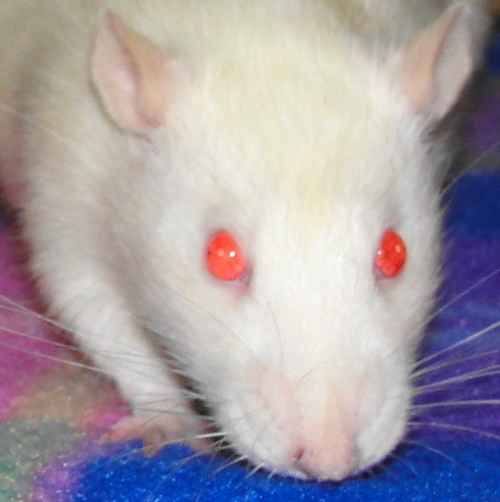 Susan is a sweet, mellow girl who will be staying at our sanctuary permently due to age, and to keep her new brother Sven company. Favorite pastimes include snuggling with her sister and brother, eating, and baking. I am being sponsored in loving memory of Sarah O'Hearn.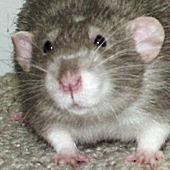 Sven is a sweet little cutie who will be staying at our sanctuary permanently due to age. He was a bachelor for awhile, but really loves his two sisters, Annie and Susan! Favorite pastimes include cuddling with sisters, climbing on human, and skiing. My sponsor is Steve Jacobson!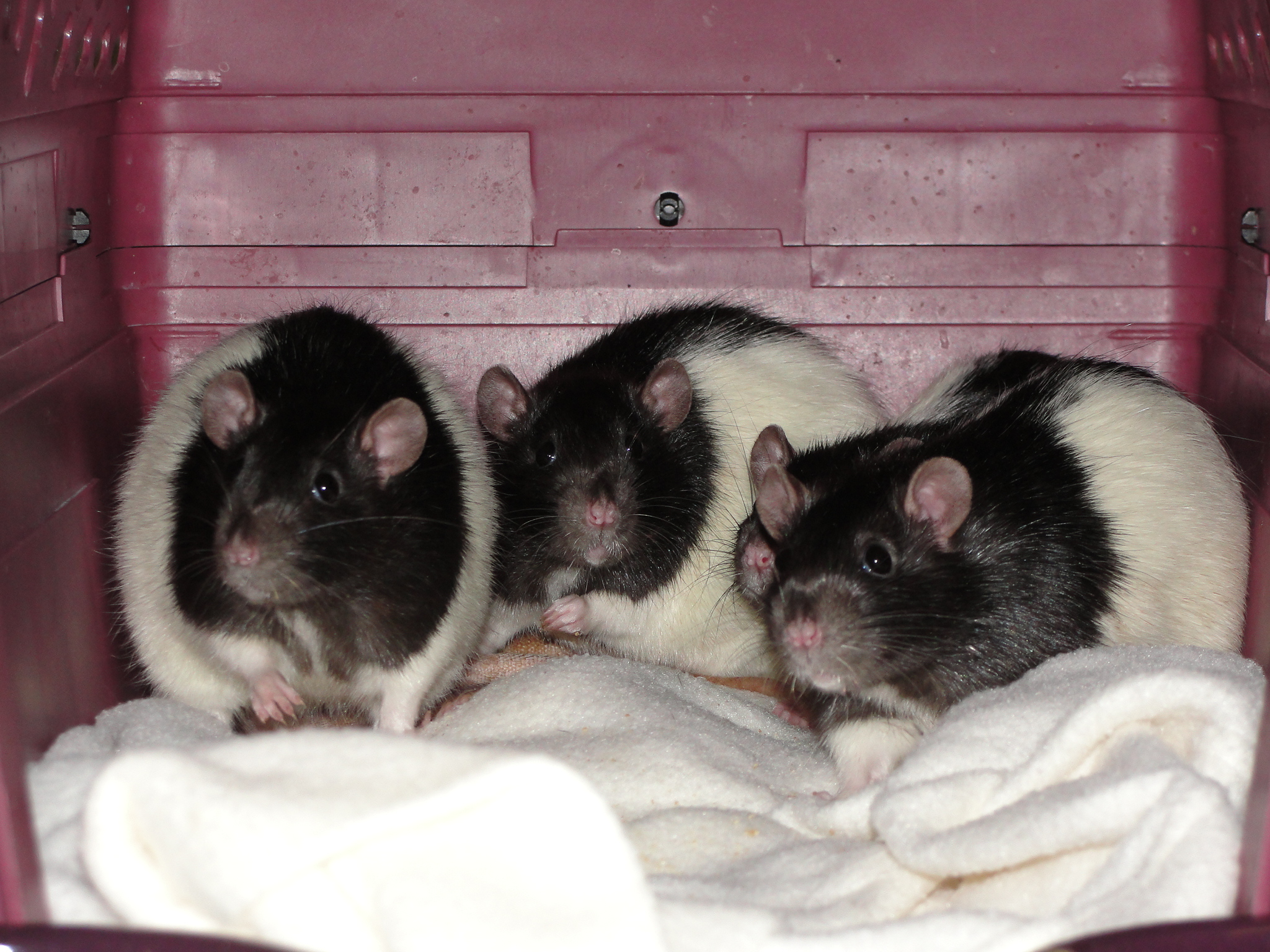 Dewey, Francis, Malcom and Reese are brothers who will be staying at our sanctuary permanently due to age, health, and temperament. These 4 brothers are very close and are overjoyed to have a forever home together here with their new brothers Kirk and Reuben. Favorite pastimes are cuddling, eating, climbing, and rattie kareoke.

All residents of Happy Endings spend much of their free time fighting tirelessly for Rodent Rights!


(mice, hamsters and gerbils too!)
---
Food


boxed white or brown minute rice


cereal (Total/unsweetened puffed rice or wheat/toasted rice or wheat)


dried (unsweetened) fruit


dry pasta (we like veggie spirals!)


fresh fruit and veggies***We go through a LOT of this!!! (fresh foods we eat include berries, bananas, grapes, melons, plums, apples, kale, broccoli, bok choy, sprouts, tomatoes, parsley, corn, squash, peas, carrots and sweet potatoes)


Green Mush dietary supplement


mouse food


Nylabones


plain rice cakes


rodent blocks


rolled oats


treats! (any treats for rats and mice)


unsalted seeds and nuts


vitamin drops for rats
Supplies


boxes (big enough for rats to play in)***Much needed!!!


cages (ferret, rabbit, guinea pig...the bigger the better!)(also mouse cages)


food dishes/water bottles


non-toxic bedding such as CareFRESH or aspen (no cedar or pine)***We go through a LOT of this!!!


rat/ferret hammocks


toys such as ladders, ropes, tubes, etc.


tupperware type containers


used blankets, sheets or towels


Wodent Wheels ("Friends don't let friends run in wire wheels.")


wooden, plastic or ceramic rat or mouse houses
Other


monetary donations for vet care, medicine, etc.
Sponsor a RodentSponsorship is a one time donation of $15 for a rat and $10 for a mouse, hamster or gerbil. Sponsors will receive important updates on their rats, mice or hamsters and are welcome to visit at any time!If you would like to make a donation or sponsor a rat please email me and let me know! You can also...Shop online and support Happy Endings at iGive.com



Click here!ORSend us a donation through Paypal!
---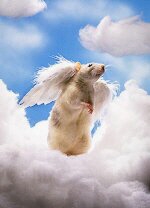 Why Rats Are Only With Us a Short While
One day, some angels went to God and asked if they might spend some time on Earth, to learn and perhaps to teach. He answered that some of the people might be frightened of the angels, that His children's idea of beauty might not be His own. The angels replied that maybe those who could look past the differences deserved the blessings that they could give. But God was still concerned. The angels needed Heaven's air to breathe; they would suffocate down on Earth. The angels promised to hold their breath as long as possible, and would return when they could not hold it anymore. God agreed and sent down the angels.Many people were frightened of these creatures, despised them, and tried to kill them in large numbers. However, the few who recognized the angelic qualities in the beings took them in and sheltered and fed them. In return, they received more joy and laughter then they could possibly imagine. But alas, soon the angels could hold their breath no longer. After just a short Earth time, they left to go back to Heaven. But they were sure to tell the next group of angels exactly who to seek out when they went down.~Author Unknown~
Angels
These angels don't strum golden harps
Have long white gowns to wear
They don't show themselves in visions
But we know that they are there
These angels don't wear halos
Or fly on feathered wings
They may not sleep on cotton clouds
They just don't need those things
These angels are all around us
In every breath we take
They're in the falling autumn leaves
In the ripples on the lake
These angels once had silky fur
And prickly little tails
They gave licky kisses with tiny tongues
Had scratchy little nails
These angels always made us smile
They could melt a heart of stone
One look at tiny angel eyes
And we never felt alone
These angels are still with us
Still twitching little noses
You see them in the sunset
And the beauty of the roses.~Heather Leughmyer~
In Loving Memory Of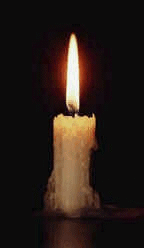 ~Rats~

Sabre, Simon, Benji, Ty, Abby, Sophie, Holly, Colby, Whiskers, Faith, Toebiter, Bailey, Hope, Maddie, Phoebe, Powder, Flea, Madeline, Rocky, Emmy, Misty, Duncan, Toby, Misha, Charity, Noelle, Olivia, Aristotle, Babs, Socrates, Templeton, Sebastian, Jamie, Melody, Lexie, Gage, Sid, Rebecca, Pedro, Mazie, Plato, Linus, Jazzie, Pablo, Ernie, Claude, Chinsey, Chloe, Genner, Lestat, Ruby, Bea, Charlie, Zoe, Sammy, Squiggy, Buffy, Romeo, Bianca, Gilbert, Eliot, DaVinci, Micah, Maurice, Abner, Baby, Alec, Vincent, Aubrey, Juliet, JT, Serenity, Cierra, Henry, Merlin, Asha, Starsky, Lenny, Bella, Frankie, Audra, Alex, Houdini, Remy, Pumpernickle, Zehn, Miranda, CJ, Boston, Kadin, Miloh, BJ, Mindy, Sienna, Adeline, Karina, Tobias, Zippy, Cheddar, Napoleon, Bailey, Maya, Anchovie, Agador, Boo-boo, Rosco, James, Sugar, Seymore, Kaya, Sassy, Monkey, Crackers, Frito, Boss, Bella, Diego, Bully, Beans, Felix, Sailor, Gabby, Izzy, Dexter, Skunk, Lola, Leo, Cooper, Ivan, Reuben, Templeton, Emma, Ellie, "little boy"
~Mice~
Maya, Megan, Macy, Minny, Amber, Precious, Angel, Dungie, Avery, Pez, Ariel, Pippin, Adele, Brie, Ramses, Babbafemi, Sagira, Petey~Hamsters~Genevieve, Gretel
~Gerbils~
Rachel

Friends of Happy Endings Memorials
~In memory of Wylde Bill (Billie)~



With Love, Michelle Krueger
~In memory of Lilith and Eve~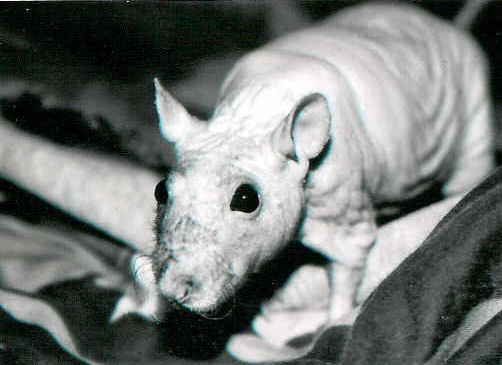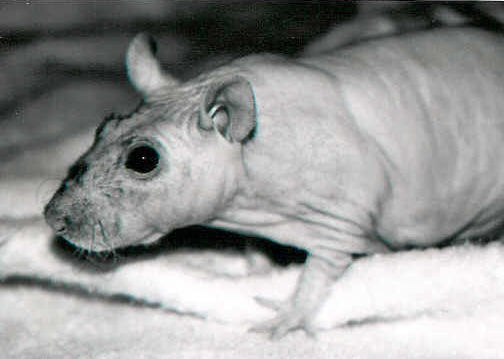 With Love, Kim Perez
~In memory of Henry~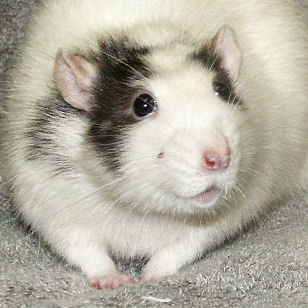 With Love, Michelle Krueger
~In memory of Steve~


With Love, Cheryl Scofield
~In memory of Axel~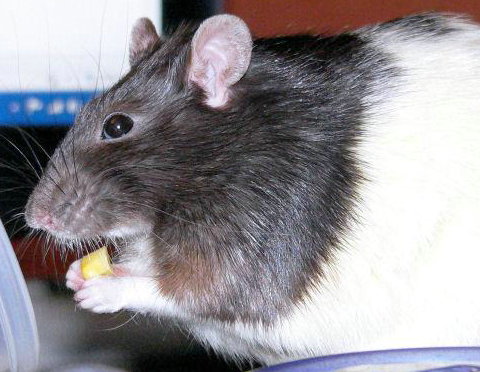 With Love, Chris Barnekov
---
Remembering Our Feline & Canine Friends

~Cats~
Poem For Cats

And God asked the feline spirit
Are you ready to come home?
Oh, yes, quite so, replied the precious soul
And, as a cat, you know I am most able
To decide anything for myself.
Are you coming then? asked God
Soon, replied the whiskered angel
But I must come slowly
For my human friends are troubled
For you see, they need me, quite certainly.But don't they understand? asked God
That you'll never leave them?
That your souls are intertwined. For all eternity?
That nothing is created or destroyed?
It just is....forever and ever and ever.

Eventually they will understand,
Replied the glorious cat
For I will whisper into their hearts
That I am always with them
I just am.....forever and ever and ever.~Patricia N. Olsen, DVM, Ph.D.~Free
Adoring eyes, contented purr
Twitching tail and fluffy fur
Softly rolling through the sky
Making clouds float slowly by

Whiskers whisper past my face
playfully and full of grace
You bat my hair with pie-dough paws
You grab my clothes with clingy claws

You brush my leg, you pounce and play
Frolicking throughout the day
Then at night you stretch and yawn
Reminding me that you're not gone

With every blade of grass you blow
You're only wanting me to know
Each dancing leaf , each swaying tree
You're telling me that you are free~Heather Leughmyer~
In Loving Memory Of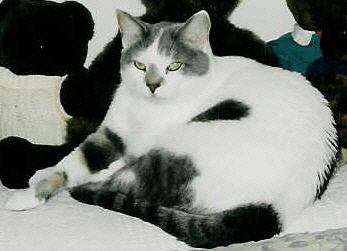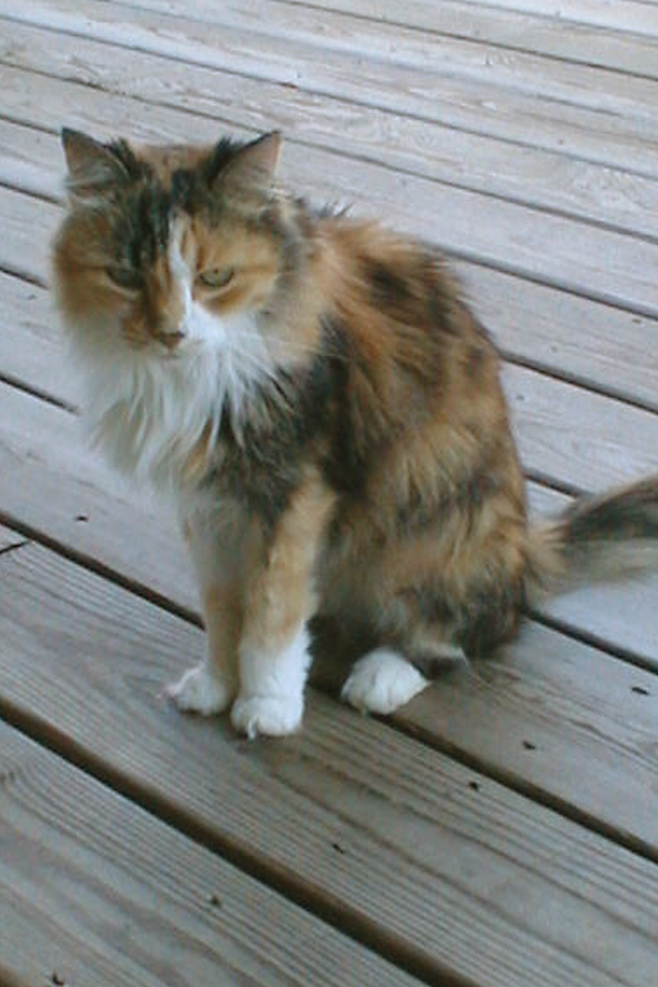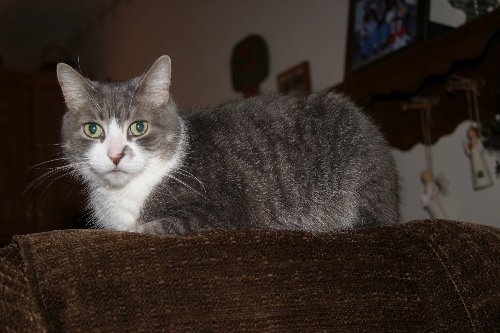 Cody Leughmyer, Patches Michael, Kitten Little Michael,
Goofy Mason, Mocha Mason
~Dogs~
May I Go Now?
May I go now?
Do you think the time is right?
May I say good-bye to pain filled days
and endless painful nights?
I've lived my life and done my best,
an example tried to be.
So can I take that step beyond
and set my spirit free?I didn't want to go at first,
I fought with all my might.
But something seems to draw me now
to a warm and loving light.I want to go. I really do.
It's difficult to stay.
But I will try as best I can
to live just one more day.To give you time to care for me
and share your love and fears.
I know you're sad and afraid,
because I see your tears.I'll not be far I promise that,
and hope you'll always know
that my spirit will be close to you
wherever you may go.Thank you so for loving me.
You know I love you, too.
That's why it's hard to say goodbye
and end this life with you.So hold me now just one more time
and let me hear you say,
because you care so much for me,
you'll let me go today.
~By Rebecca L. Hoak~
In Loving Memory Of
Misha Leughmyer, Misty Leughmyer, Oscar Michael, Cassie Michael

Kimberly A. Cardeccia MA, LPC, NCC runs a pet loss support group in Howell, Michigan and also offers free email support. If you are grieving over the loss of a pet and need someone to talk to email her at kim@joyful-spirit.com.
For information on her book Healing Your Heart When Your Animal Friend is Gone: A Children's Pet Bereavement Workbook go to www.breesgiftpublishing.com.Also, visit www.petloss.com With a donation to Happy Endings (no minimum) your pet can be listed on our website as a loving tribute to him/her.
---
Our Favorite Links
Rat-Approved!!!
Animal Rights Links


Action For Animals ~Lots of good information on animal rights/veganism


Animal Veg FAQ ~Answers to anti-animal rights arguments


CHACE ~Connecting Hoosiers for Animal Concerns & Education


People for Ending Animal Cruelty and Exploitation ~MSN community for animal rights activists


Peta ~People for the Ethical Treatment of Animals has info. on all aspects of animal rights


Rat Rights ~Rethinking animal treatment and their rights


Rats Have Rights ~The Rat Liberation Front


Rattie Rights ~Help Stop Animal Abuse


Student Animal Rights Alliance ~Online portal for the student animal rights movement


Vegan Outreach ~The best vegan activism site around! Lots of reasons to Go Veg!
Rat Information Sites


American Fancy Rat & Mouse Association ~Lots and lots of info. on rats and mice


Loving Rats ~MSN rat discussion board with lots of info.


Rat & Mouse Club of America ~Lots and lots of info. on rats and mice


Rat Fan Club ~Lots of EXCELLENT info. on rats and rat care


Rat Planet ~UK based website with LOTS of helpful info.


Rats ~Rat Assistance and Teaching Society


RatsRatsRats ~MSN community


Rats Rule ~Lots of info. on pet rats


RatStuff ~ If you love pet rats - you'll love RatStuff.


The Small Animal Pages ~Information on small animals including rats and mice

Rescues and Resources


Caitlinsrescue ~Animal rescue and adoption forum


CrittersNest Adoption and Rescues ~An updated list of Rescues and shelters that take in rats throughout the U.S.


EARPS ~Exotic Animal Rescue and Pet Sanctuary takes in various kinds of small exotic animals throughout MI and IN


FurrButt Farms Rat Rescue ~Rat Rescue located in Louisville, KY


Loving Rats ~ Ratta Muffin Rescue takes in unwanted rats in the NJ area


Rat Adoption ~Yahoo group that assists with rat adoption and rescue


Rathelp.org ~Rat Rescue and adoption contacts


Rat Rehoming Register ~Rat adoption and rehoming


Rat Rescue.com ~Meeting place for rat and other rodent lovers


Rat Transport ~Yahoo group that helps with transport issues


Rats Rule Forum ~Forum at the Rats Rule website that includes an adoption board


Recycled Rodents ~Rat adoptions


RMCA Rescues ~Rat adoptions


Starr's Pets Page ~Links to animal shelters and organizations in and around Fort Wayne, Indiana and beyond
Misc. Rat-Related Sites


Animalove ~Rat refuge and other misc. info.


ChooseCompassion.net ~Promotes the humane treatment of all animals


Pet Loss Cards ~Pet loss e-cards. Site includes rat/mouse cards.


Pet Rats Indiana ~ Web community for rat lovers in Indiana


Rat Names ~Database of LOTS of rattie names on ratsrule.com


RatRaisins, Inc. ~Rats are people too!


Suebee's Diet ~Info. on Suebee's mix which all Happy Endings residents enjoy daily


Vegan Rats ~Yahoo community


Virtual Squeaks ~Rattie e-cards from the RMCA


Yummy For Dogs (and Rats) ~Vegan recipes for rats, dogs and wildlife

Educate Yourself!!!
In the U.S., an animal dies in a lab every second...unseen and unheard they suffer...but you can make a difference...



Help Stop Animal Tests


Caring Consumer ~ List of companies and charities that do and do not test on animals


Fact Sheets ~Fact sheets on all aspects of animal rights including animal experimentation


March of Crimes ~Information on March of Dimes cruel animal tests


Stop Animal Tests ~Information on what you can do to help stop cruel, outdated animal tests
Watch Out For Pet Store Cruelty


How To Report A Pet Store ~Information on what to do if you witness pet store cruelty
Don't breed or buy while homeless animals die!!!
---

View My Guestbook
Sign My Guestbook

---
Visit Heather's Poetry Site If Your Tears Were Human
---
Who do you pet, Who do you eat?
A Short Essay by Heather
There's a schizoid quality to our relationship with animals, in which sentiment and brutality exist side by side. Half the dogs in America will receive Christmas presents this year, yet few of us pause to consider the miserable life of the pig--an animal easily as intelligent as a dog--that becomes the Christmas ham.
New York Times Magazine "An Animal's Place" by Michael Pollan, 11/10/02
Someone once said to me, "I'm not a vegetarian, but I know where to draw the line." This statement was made after a short discussion about "meat" rabbits. I didn't know this person well enough at the time to feel comfortable enough to ask the question that was eating away at me; "Where exactly is this line?"After all, what makes pigs any different than dogs? Chickens and turkeys any different than parakeets or lovebirds? Calves any different than kittens? You get the picture. Is it intelligence? Some pigs have proven to have the intelligence of a 6 year old child, and they are definitely as smart as dogs. Is it the cute factor? Anyone who has ever had the wonderful opportunity to visit a place like SASHA Farm or Farm Sanctuary can tell you that when given a chance to live their lives as individuals, these animals can be social, playful, and yes, ADORABLE just like the ones we call "pets." So why exactly is it that we eat chickens, pigs, cows and other animals without a second thought, while pampering our pooches, cats, rabbits, rats, etc?As children we were taught that some animals are "pets" while some animals are "food." We have been programmed since birth to think that this is "just the way it is." We may even start to believe that these "food" animals have no feelings and do not suffer. Each year, in the United States alone, nearly 10 BILLION land animals are raised and killed for food. This does not even include the aquatic animals raised on farms or killed in the oceans. These are animals that are just as capable of feeling pain, boredom, frustration and experiencing joy as any others. These are beings who are reduced to mere "production units" by huge, greedy corporations and whose feelings are blatantly disregarded in the name of "profit." If you or I were to treat a dog or cat the way farmed animals are treated in modern day factory farms and slaughterhouses we might be charged with felony animal cruelty (depending on what state we live in). Today, avoiding animal flesh and even their by-products is becoming easier and easier to do. The majority of people in the U.S. and around the world do not find it acceptable to intentionally abuse an animal, and yet every year we support the immense cruelty and slaughter of feeling beings by the billions to get these unnecessary products. As a society of "animal lovers" we have a choice to make. Are we going to love and pamper certain animals, while filling our stomachs with the tortured remains of others, or are we going to extend our compassion to all sentient beings? If you are interested in learning more please visit www.veganoutreach.org.
I think everybody has the capacity to stop and think and say, "If I knew you, I wouldn't eat you." And in some ways, it really is that simple.
Tom Regan, PhD, NC State Professor of Philosophy, from A Cow at My Table
---
"Until he extends the circle of compassion to include all living things, man will not himself find peace." ~ Dr. Albert Schweitzer

ADOPT A RAT! GO VEGAN!